Accurate Balancing Agency Inc. is a certified third party TAB firm which was incorporated in 1990. We have developed a reputation as a trusted team member on commercial, industrial, and institutional projects ranging from small tenant improvements to large industrial projects. Our technicians bring over 80 years of combined TAB experience to our clients.
At Accurate Balancing Agency our technicians perform TAB services in accordance with project plans and specifications as well as the National Environmental Balancing Bureau (NEBB) procedural standards. We also reference the Associated Air Balance Council (AABC) manuals as well as the Sheet Metal and Air Conditioning Contractors National Association (SMACNA) guidelines.
Accurate Balancing Agency carries the following certifications:
We are NEBB Certified in Air and Water Testing, Adjusting, and Balancing.
We are NEBB Certified in Sound and Vibration Measurement.
We participate in the ABC Safety Training and Evaluation Process Program.
All Technicians carry OSHA 10 or OSHA 30 Accreditation and are Lift Certified.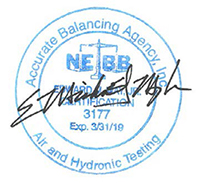 ABA VISION STATEMENT
ABA is a leading provider of HVAC testing, adjusting, and balancing services in the Pacific Northwest; optimizing the comfort and efficiency of commercial, industrial, and institutional buildings. We foster trusted partnerships within the construction industry by focusing on competency, communication, and honesty. Our team is highly trained, well equipped, and tenacious in meeting the expectations of our clients. Our employees are the strength of our organization; we value their input and provide a superior work environment with opportunities for advancement.